Our mission: 
Eliminate Vapor Drive in every thermal controlled facility.
.We are recognized experts. The Cold Storage industry recognizes us as the leader in eliminating vapor drive. We have lead continuing education classes for RETA, CEBA and the GCCA nationwide addressing vapor barrier discontinuity. The U.S. Federal Government recognizes us as experts and has granted us the only application patent for applying a vapor barrier. We have published white papers on the elimination of vapor drive in thermal-controlled environments and on FSMA compliance.
Though we have years of expertise in the cold storage industry, we know you are the expert on your building and there is only one way to understand your concerns and goals: we listen.

Truly a better mouse trap. We battled ice buildup, Condensation and rot for years with a conventional roof and vapor barrier system. No more!
David G.
Food Storage Facilities Director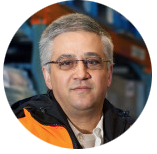 We are building envelope experts dedicated to eliminating vapor drive in every thermal-controlled facility. Download our cut sheets to show everyone back at the office.

Our 15 YEAR
NO ICE. NO CONDENSATION. NO COST.
Industy Leading Warranty